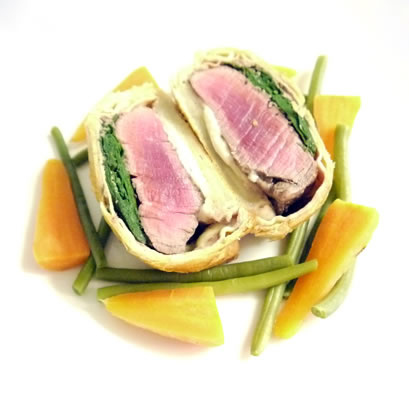 Beef Wellington
Ingredients :
- 6oz Beef fillet
- 1oz Chicken liver pate
- 1oz Mushroom pate
- 1 Pancake
- 1oz Spinach
- 3oz Puff Pastry
- Egg for glazing
Season the steak with Sea Salt and Freshly Milled Black Pepper, in a hot pan seal all sides of the steak for 20 seconds and leave to cool.
Roll out the puff pastry into a six inch square, cover with a pancake then the chicken liver pate, cover this with a thin layer of spinach and then the mushroom pate.
Place the Fillet Steak on top of the pate and brush a little egg around the outside of the puff pastry.
Gather in the sides of the pastry and fold them under each other smooth any wrinkles from the sides and Brush with the egg wash, chill for at least 20 minutes.
Bake in a hot oven 200°C
15 minutes for rare
20 minutes for medium
25 minutes for well done
Leave to rest for at least ten minutes.
Carve into halves and serve with vegetables and potatoes of your choice.