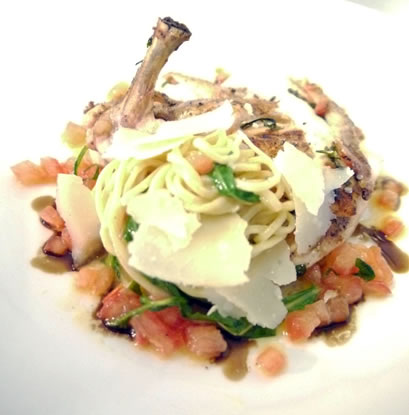 Roast Breast of Chicken with Tarragon and Tomato
Ingredients :
- 2 Breast of chicken
- 50gm Butter
- 1 Tomato
- Teaspoon chopped fresh tarragon
Leave the butter to come up to room temperature.
Plunge a tomato into boiling water for fifteen seconds and then immediately into very cold water. When the tomato is cool the skin should be easily removed, cut the tomato in half and using a tablespoon remove the seeds. Chop into fine dice and add to the butter, add the chopped Tarragon and mix well.
Gently lift the skin of the chicken and spoon half the butter mix under the skin repeat with the other breast and place in the fridge for half an hour.
Preheat the oven with a roasting tray to 200°C.
Remove the chicken from the fridge and using the palm of your hand flatten the butter under the skin.
Season the chicken with sea salt and freshly milled black pepper.
Place the chicken skin side down into the preheated oven tray, reduce the oven temperature to 180°C and cook in the oven for 25 minutes.
The breasts should be left to rest for 5 minutes and can be carved into thin slices if required. Spoon the remaining butter over the chicken.
This dish is very versatile and can be served with most vegetable/potato combinations and is also excellent with past and rice.