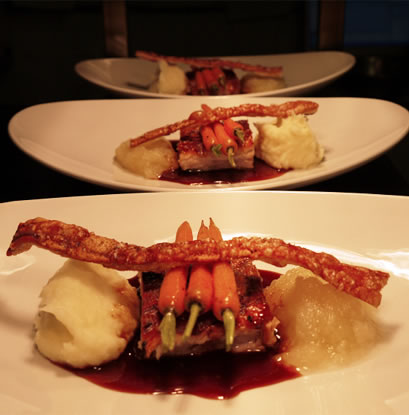 Slow Roast Belly of Pork
Ingredients :
- Allow around 10-12oz of pork belly on the bone per person
Preheat the oven to 125°C;
Cover the bottom of a roasting tray with some chopped onion, sage and garlic, place the pork belly on top and put into the oven for at least four hours but preferably six.
After each hour in the oven pour half a pint of water into the roasting tray.
Remove from the oven and allow to rest for fifteen minutes.
From the roasting tray remove as much of the fat as possible and over a gentle heat add a glass of red wine. With a whisk stir the red wine into the remaining juice. Strain and serve with the pork belly.
This cut of meat although beautifully flavoured and Tender can be quite rich and benefits from being served with Bramley apple sauce.
Is also excellent with mashed potato and is great with coarse grain mustard.